---

The tested and proven Aerobus technology lowers system installation costs and provides greater route flexibility.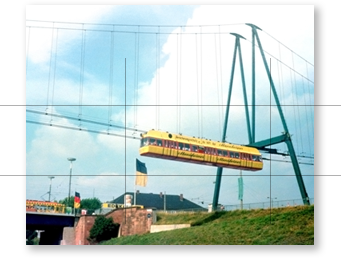 In place of a conventional monorail's massive, unsightly concrete support pillars, Aerobus utilizes slender steel pylons to elevate suspension cables, similar to those used in the Golden Gate Bridge.
These cables, in turn, support dedicated, very lightweight, fixed cable guideways that allow electric, self-propelled vehicles to operate at any desired height above surrounding terrain.
Using patented Aerobus technology, the pylons may be placed as far as 2,000 feet (600+ meters) apart. This distance between supports is more than 15 times greater than other elevated systems.
Why is this important?
Simple. The fewer the support points, the lower the cost of construction. Which substantially reduces the price of an entire project. Lowering the number of support points also means less visual clutter and a reduced number of ground-level obstructions.
Further savings are realized by the fact that fabricating and erecting Aerobus pylons are less expensive, unit for unit, than constructing and installing traditional concrete or steel support posts.
Aerobus offers the only tested, proven solution for many difficult transit applications.
Perhaps the most important benefit derived from widely-spaced pylons, though, is unparalleled flexibility. Aerobus guideways can span lakes, rivers, wetlands, and deep canyons. Those same guideways may be elevated to any specified height. So Aerobus can be routed over freeways, buildings, rail yards, power lines, and impediments that block the path of other transit options. This allows designers to plan the shortest, most efficient routes, reducing total project costs even more.
No other transit technology can match this unique Aerobus capability
Aerobus provides a proven, reliable technology. Aerobus installations have operated safely and reliably for millions of passenger miles. On two separate occasions, operating Aerobus systems were evaluated by transit specialists working for the U.S. Department of Transportation, Urban Mass Transportation Administration. Both glowing reports recognized the advantages and value inherent in Aerobus technology.
The Aerobus construction of the Weihai Project in China brings to light these unique aspects.